Our 2019 field season is underway. On this page we will keep a journal record of our days in the badlands with images and text. We hope you enjoy following our prospecting adventures in search of dinosaurs. Each new post will begin with a picture and then some text below.
----We are hoping for a great 2019 field season. This year, we have over 10 ranches we will be prospecting. Each ranch we lease, we commit to fully hiking all deeded areas. This year, that will contain over 100,000 acres. Not all of those areas are fossil bearing, but a lot are. We start with the open exposure and then move to even the grassy areas that are within the fossil-rich layers. Time to strap on those hiking boots.
This season we will not only be conducting commercial fossil exploration, we also are assisting in some academic museum research from past finds in our areas, working on a mapping of the fossil-exposure layers within the Hell Creek Formation, and our first major artifact site in the badlands " The Pelican Lake project on Scorpion Ridge". Our plates are full for sure.

----CK was out prospecting this area on 5/31/2019. The photo above is an area we were hiking in the Hell Creek Formation. A bit chilly today, the cacti were flowering along with the prairie roses. Several weathered Triceratops fossils seen along with some Hadrosaur fossils. Everything found today was a bit to worn down to collect but great to see. Katie is in the center of the picture, a bit hard to see her. What a great day for prospecting.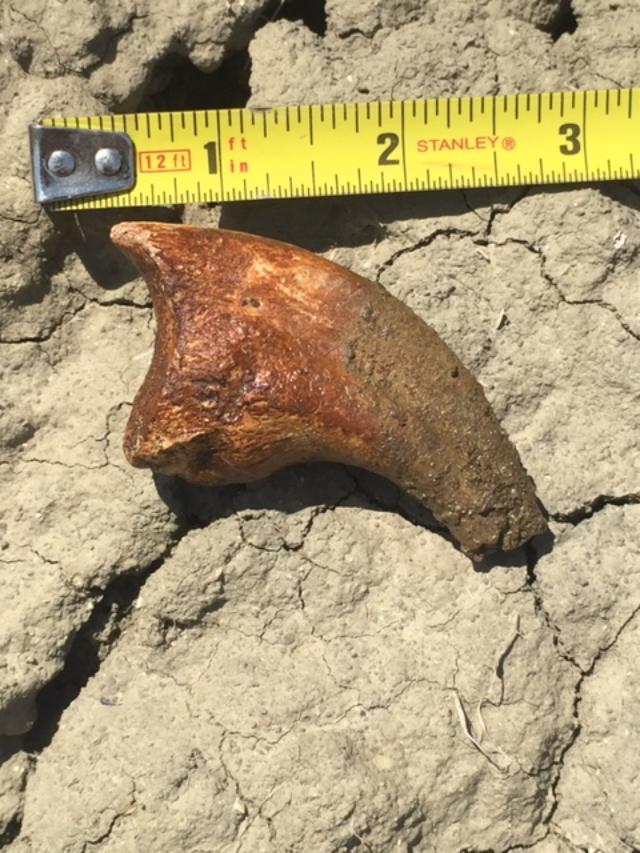 ----Nate was out today 6/4/2019 prospecting a new area. Weather was a bit warm but he was rewarded with a very nice Anzu w. claw. He mentioned that the spot it was found may be a new channel site for future digging. Always so exciting to see a fossil like this. Great job Nate! Clayton and Luke are joining up with him tomorrow in the area. Looking forward to what they might find.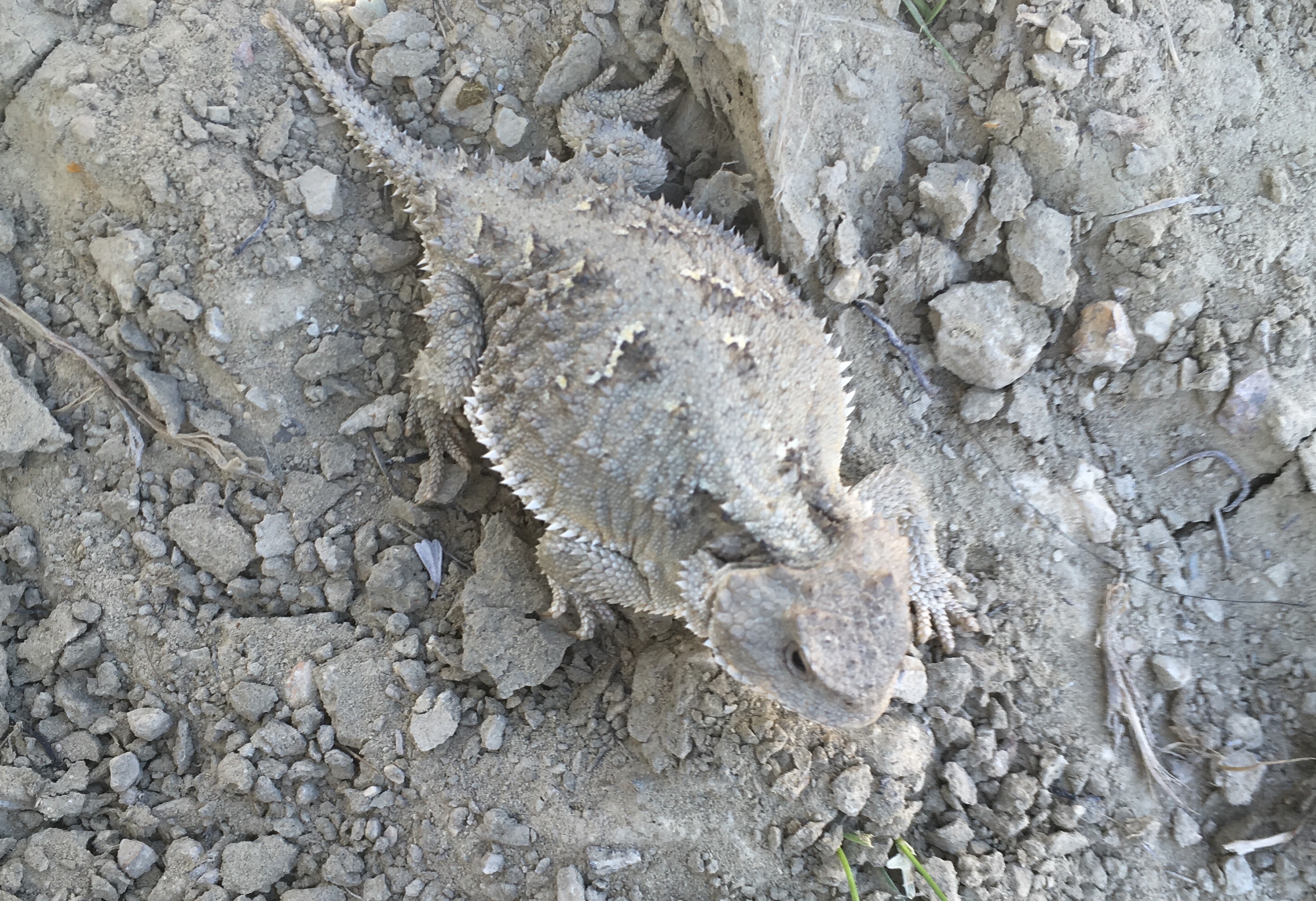 ----A pretty slow day in the badlands. Clayton ran across this Horned Lizard relaxing out in the sunny badlands. Always great to see these little critters, sure look like mini dinosaurs. The famous paleontologist E.D. Cope named one of these species.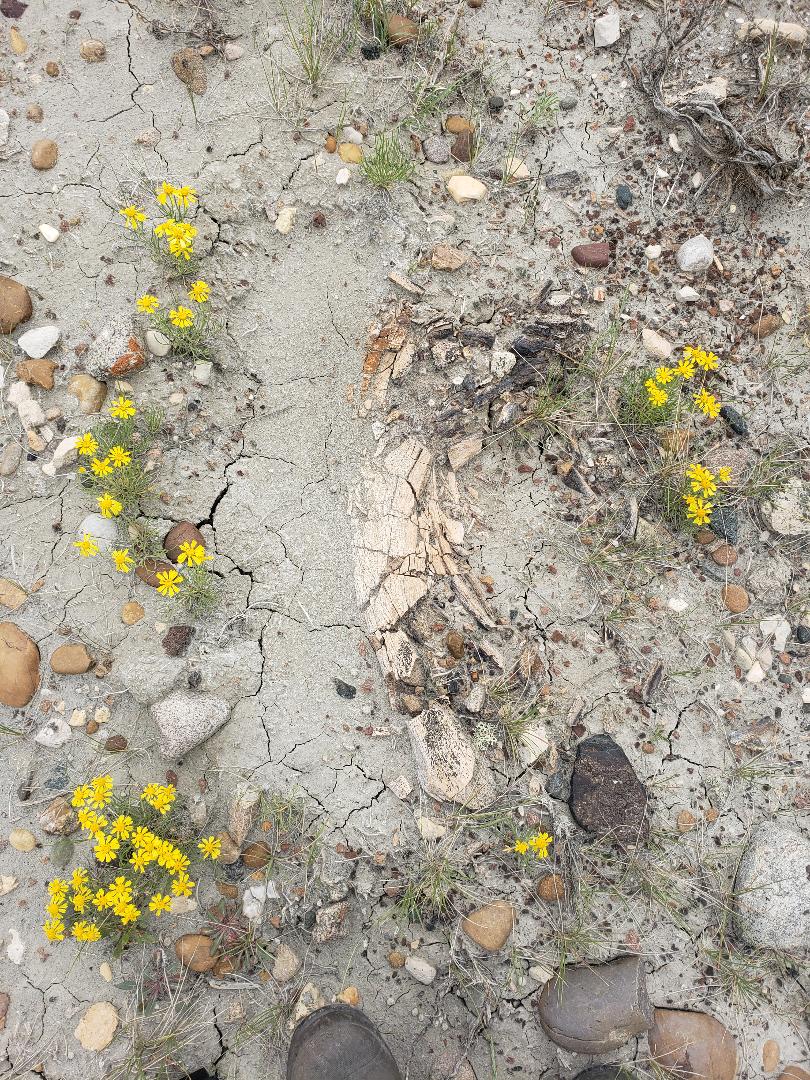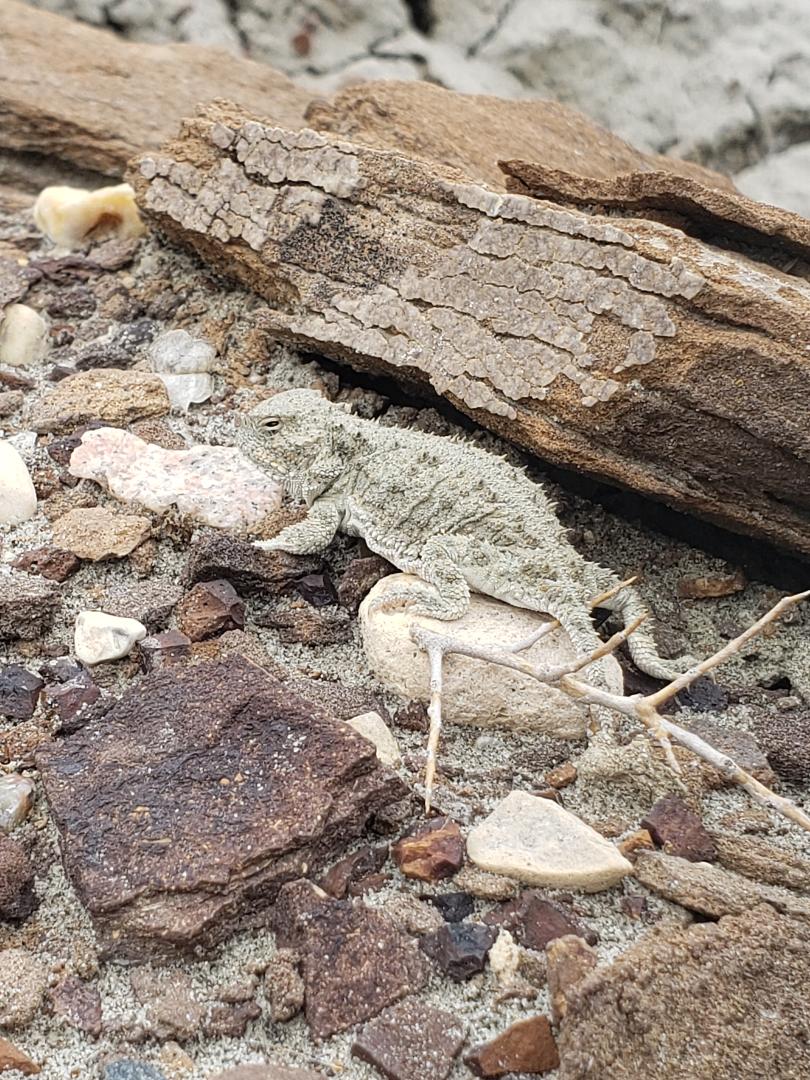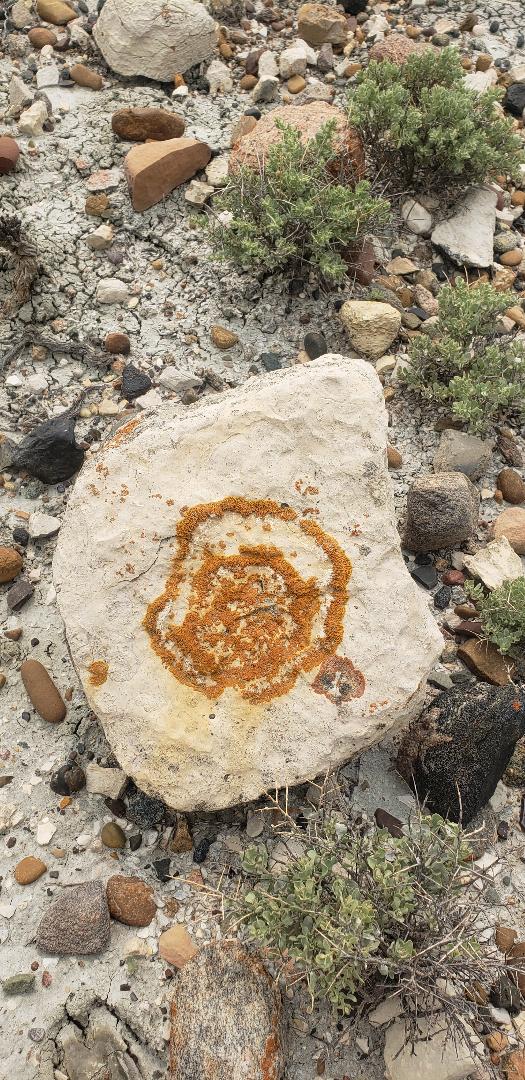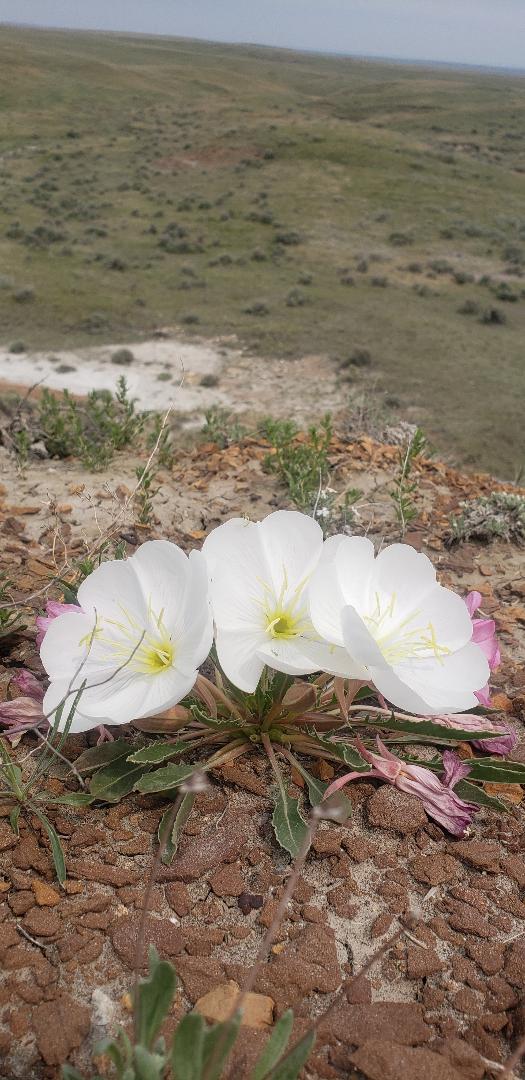 ---- CK were out prospecting today 6/8/2019. Another cool day outside which made for great hiking weather. We covered a lot of ground today. No good fossils were found but we came across this weathered Hadrosaur scapula. Took this picture to show how the elements can quickly break down a dinosaur fossil. The fossils hold moisture in and during the winter, that moisture expands and explodes the fossil. Was also neat to see the flowers growing around the fossil. Plants also break down the fossils with their roots. Since the badlands are really dry and not much nutrients in the soils, plant roots seek out fossils for their moisture and minerals. Fossil condition deteriorates rapidly once they are exposed to the elements.
Since there were not much fossils seen, we did take some time to photograph some of the other great natural sights in the badlands.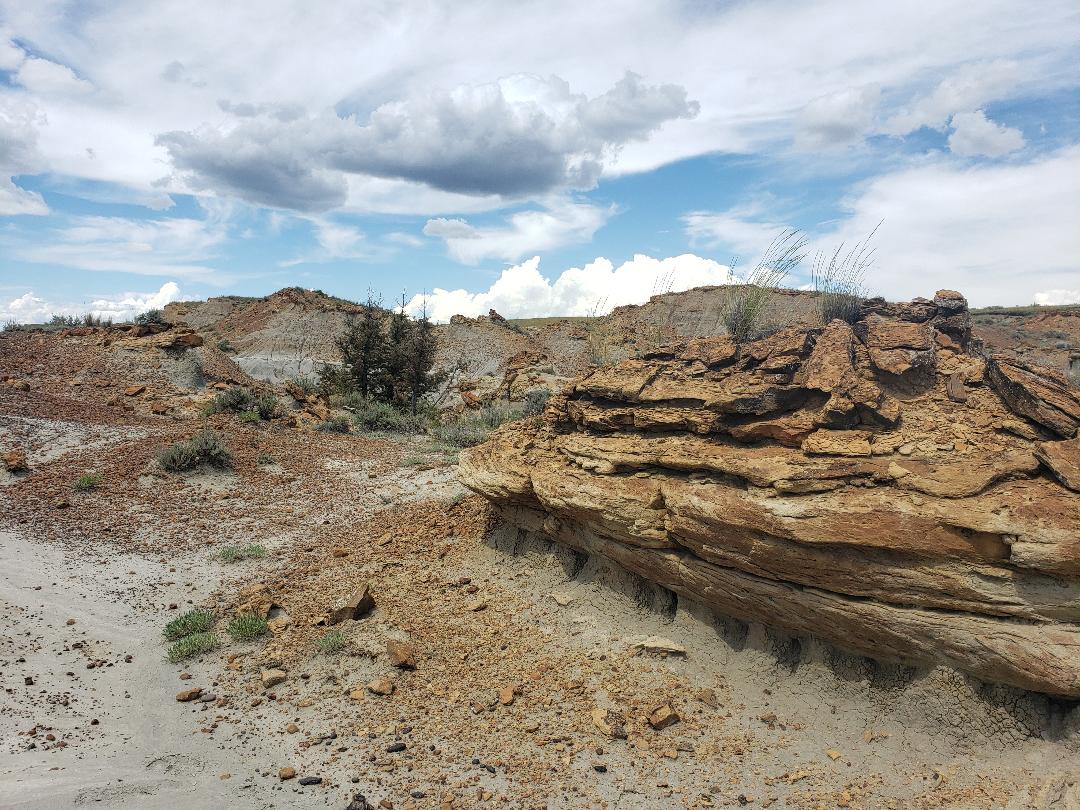 ---- We were out prospecting today 6/14/2019. Covered a lot of ground again today. Nothing exciting to report on our end, maybe the guys had better success. The weather and scenery was just stunning today in the badlands.
---- 8/13/2019 We have been extremely busy in the field this season. Though we got off to a slow start with all the rain in Montana, we have made up for that with two exciting finds. One of the sites is almost finished up and will be headed to the lab in a couple weeks, the other site is just beginning. We will be updating the projects page soon with our new finds. We are also still prospecting for new finds though they may have to wait till the 2020 field season. Weather changes quickly in Montana so we are working as quickly as possible to finish the finds we have before the cold winter hits.